Wireless Data Acquisition System Case Studies
February 21, 2023
Wireless data acquisition systems are vital elements of connected factories, collecting data that allows operators to remotely access and visualize equipment and process information, support safety and security measures, improve productivity, and increase profits. These nine mini case studies illustrate their features and benefits.
By James Patrick, Marketing and Product Manager, PATLITE
Wireless data acquisition systems are vital elements of connected factories. When deployed as part of an IIoT network, these smart solutions collect equipment data, visualize processes, and improve productivity, allowing manufacturers to remotely monitor the condition and performance of every connected machine on the factory floor. As such, they also enable predictive maintenance, which can help extend asset lifetimes, boost productivity, prevent equipment damage, reduce downtime, and maximize profits.
Wireless data acquisition systems are available from many trusted industrial data communications suppliers. The various options are available with different assortments of features and benefits and at various price points.
Product Introduction
PATLITE's Wireless Data (WD) Acquisition System offers reliable, user-friendly, and cost-effective solutions for remotely monitoring and analyzing the real-time status of industrial equipment and allows operators to enact predictive maintenance strategies, identify production bottlenecks, and maximize overall equipment effectiveness. It's also designed for seamless integration into existing equipment, regardless of age or model. Users simply attach a WD transmitter to a compatible signal tower and connect the transmitter to a receiver to start wirelessly collecting valuable data from equipment, including CNC machines, metal lathes, and sorting machines. Users can then use PATLITE's WD System Setup Software (available through RS) to access and export the data to a CSV file.
PATLITE's WD PRO Series consists of enhanced versions of WD transmitters and receivers as well as a base unit for serial communication, and it offers several additional benefits, including extra data points and collaboration protocols that make it easier to support network device variability.
The WD PRO Series features:
Eight points of contact input that allow users to acquire up to 765 data codes and identify specific conditions, including the exact cause and timing of equipment malfunctions.
A serial cable that allows users to connect a barcode reader to the WD PRO base unit and trace specific operational data to gain greater control over their processes and resources.
Receivers equipped with PoE connectivity. The PoE connections offer easy click-in mounting and can significantly reduce wiring requirements and costs.
System setup software that lets users configure various transmitter and receiver settings and access wireless quality diagnostics that use a five-level evaluation system to visually convey the quality of the wireless connection between the transmitter(s) and receiver. The software updates diagnostics every 10 minutes during long-period sessions and can record up to 72 hours of diagnostic data so users can more easily determine when to modify what equipment. To get started, users simply install the software on a PC and connect that PC to a WD PRO receiver with a LAN cable. (Note: The software is not compatible with WDR PRO Lite models and will not work properly if the receiver and PC are connected via USB.)
Andon displays that provide real-time status updates for the light and buzzer status of every connected signal tower. This data can also be exported to a CSV file. (Note: This function is also unavailable      for WDR PRO Lite models.)
Simultaneous application capabilities. The device setup browser can run a variety of collaboration protocols at the same time, including MySQL Database, Modbus/TCP, and SOCKET communications (e.g., WDR and WDR PRO protocols).
Wireless Data Acquisition Case Studies
PATLITE's WD and WD PRO Series wireless data acquisition systems have been tested and proven to help standardize operational monitoring and maximize overall equipment effectiveness in industrial manufacturing facilities. These nine mini case studies illustrate how.
Case Study #1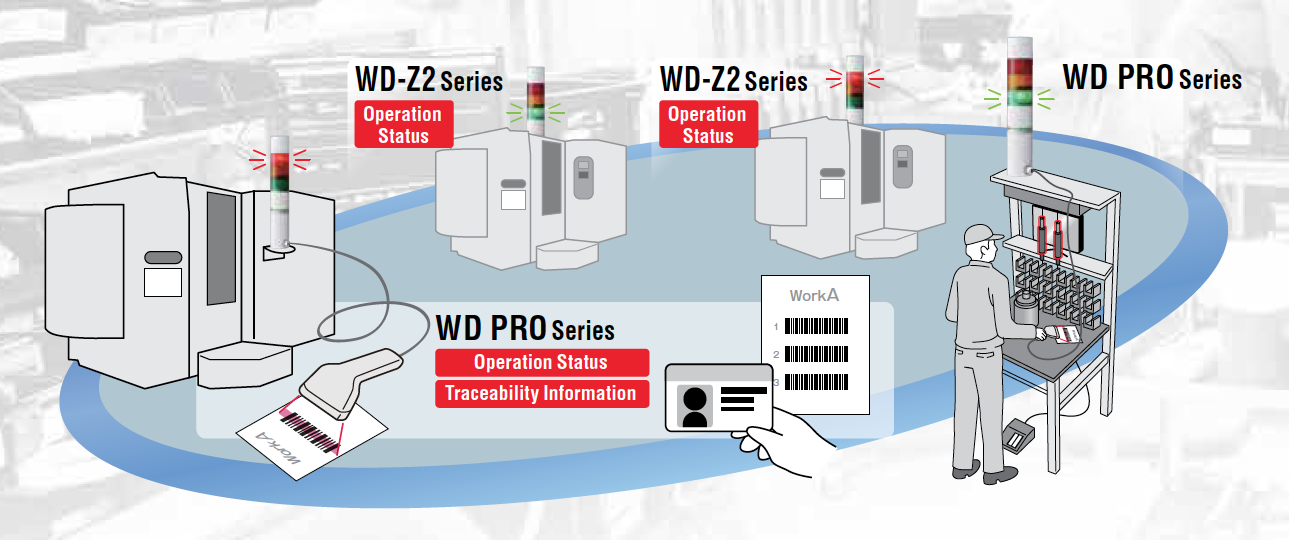 Before: A customer operating several manufacturing facilities in different locations wanted to share information with the various facilities to improve company-wide productivity but didn't have a remote monitoring system in place to acquire and transmit real-time equipment data.
After: Installing our WD System allowed them to remotely monitor and analyze the status of each facility's production lines in real-time and share that information with each of the sites, and it wasn't long before analyzing the equipment data from one location helped them identify equipment errors before they occurred in other locations.
Case Study #2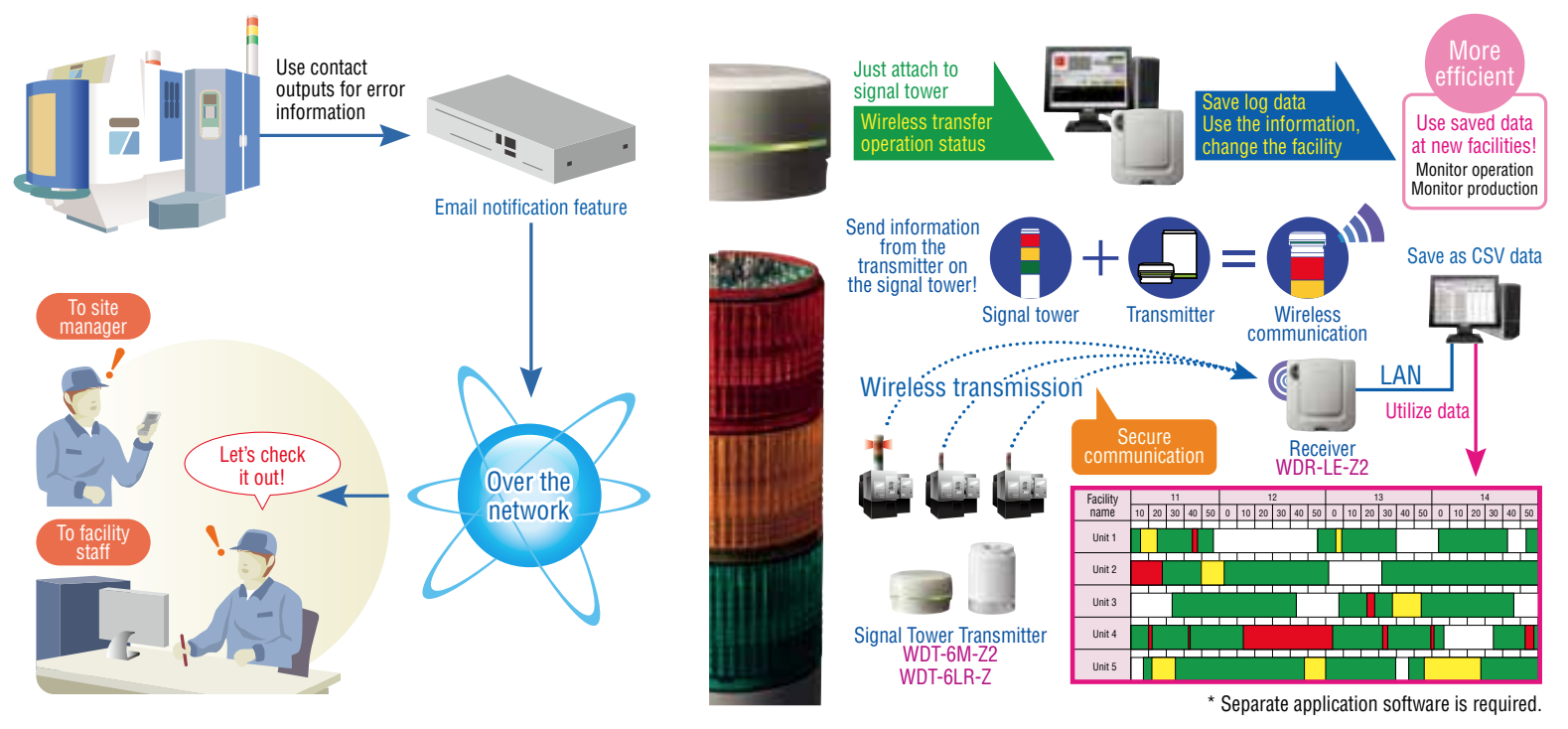 Before: A customer wanted to install an integrated system for operation management so they could identify and respond to equipment issues faster to reduce downtime and production losses, but they had older equipment that would require costly and time-consuming updates to be compatible with many modern monitoring systems.
After: After installing our practical and economical WD Series Wireless Data Acquisition System, they were able to collect and monitor equipment performance in real-time. The WDT-LR-Z2 transmitters installed on their legacy equipment signal towers automatically calculated and summarized operation logs based on the signal tower's indicator color (red, yellow, or green) and transmitted that data over the wireless network. This allowed them to visualize the overburdens (muri), waste (muda), and inconsistency (mura) in their processes. The WD System also automatically sent required maintenance alerts to supervisors to help them enact predictive maintenance strategies that protect their equipment, boost productivity, and reduce downtime.
Case Study #3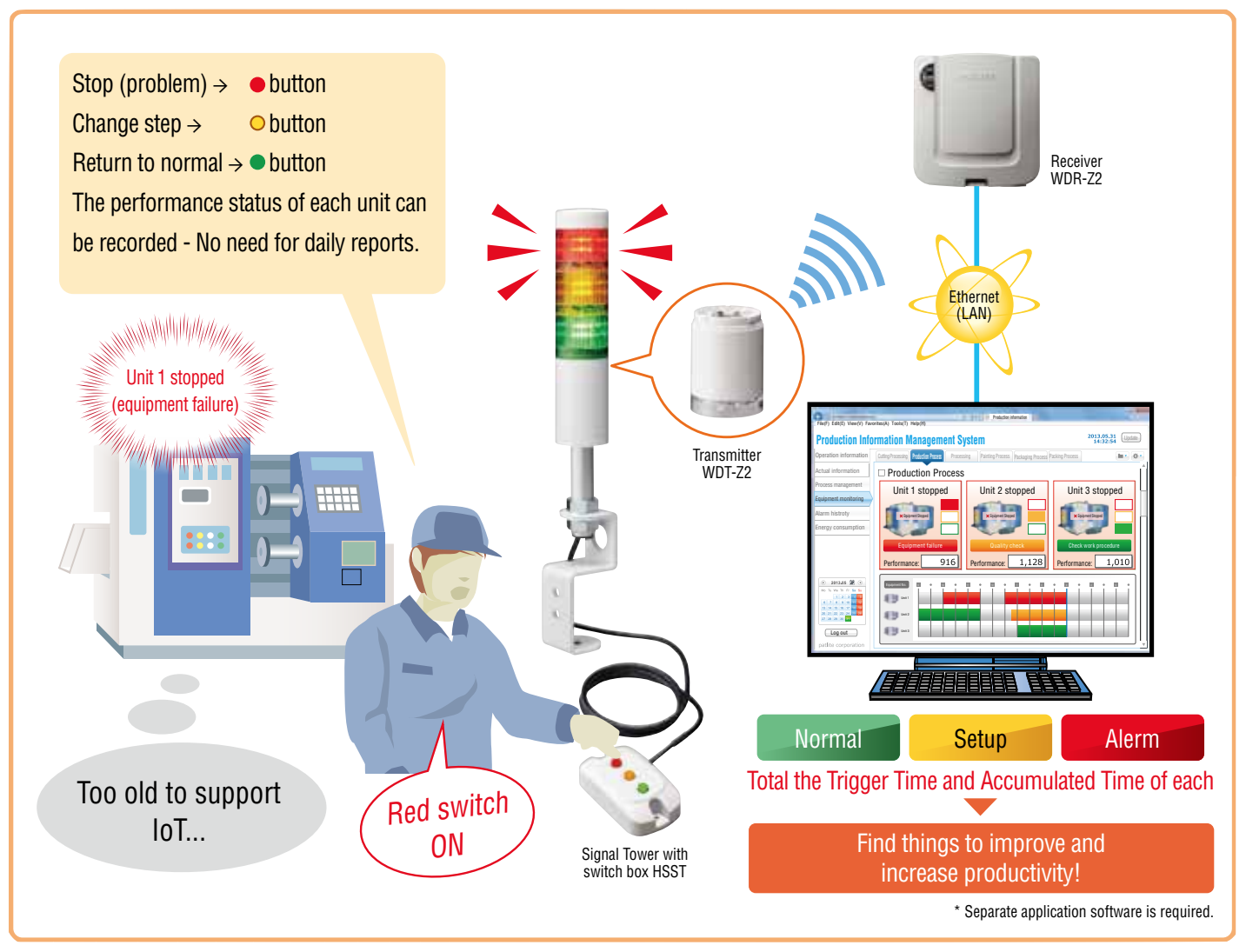 Before: A customer who had been relying on handwritten daily production reports to document the status of legacy equipment wanted to replace this tedious and time-consuming process with a labor-saving solution that would also improve accuracy. However, their equipment was too old to support modern network protocols and devices.
After: Installing our WDT-LR-Z2 transmitters, our HSST manual control signal tower with a corded switch box, and our WD System Setup Software (available through RS) allowed them to acquire legacy equipment data wirelessly and remotely in real-time without investing in any major machine upgrades.
The WD System allowed them to eliminate handwritten reports, reduced labor requirements, and significantly improved their data collection accuracy and analysis capabilities. And now that they have access to accurate, real-time data, they can quickly and easily identify and correct issues before they become severe enough to halt production, which helps them save even more money and further improve productivity.
Case Study #4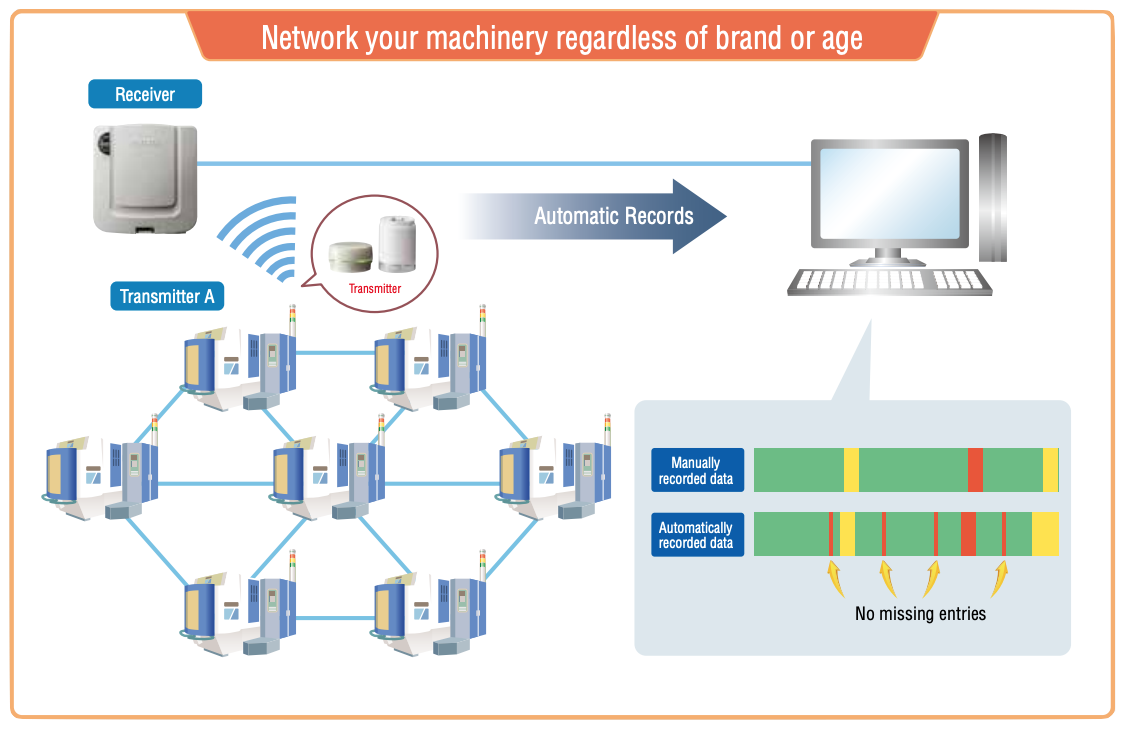 Before: A customer who still relied on handwritten daily operation reports submitted at the end of each business day ran into a few instances where machines stalled overnight. Since no one was there to witness, document, and begin correcting these issues and their maintenance personnel couldn't even begin trying to identify and overcome the issue until the start of the next business day, the machines were down for long periods of time, which resulted in significant revenue losses.
After: Installing our WD System allowed them to automatically acquire and analyze equipment operations 24/7 in real-time. This allowed operators and managers to identify performance trends and enact predictive maintenance strategies that allowed them to schedule equipment downtime when it would be least impactful to production and profits. It also allowed them to remotely access equipment data after hours, which eliminated the issue of lengthy unplanned downtimes.
Case Study #5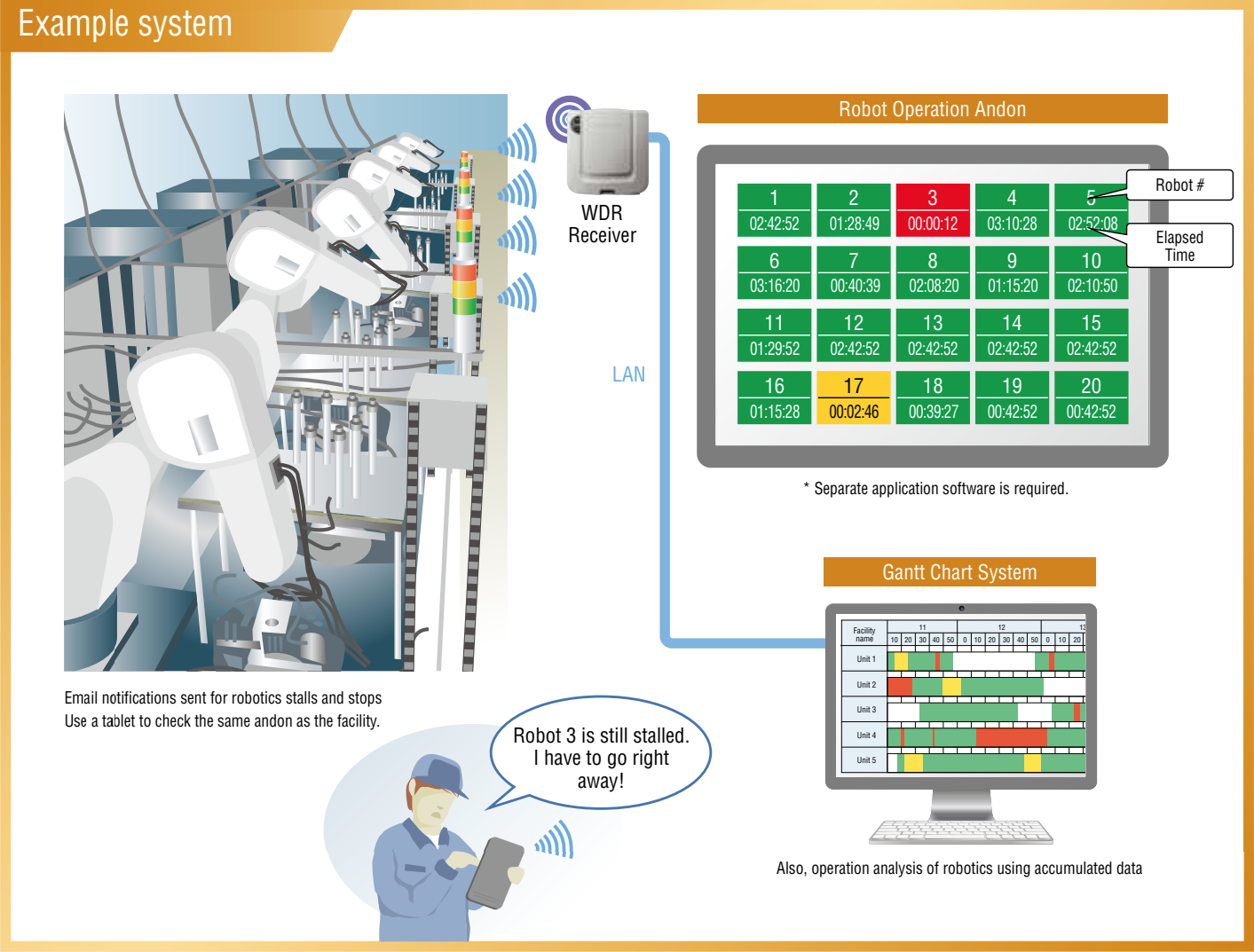 Before: A customer with an automated robotic process that relied on manual status inspections noticed that stalled robots were going unnoticed for extended periods of time, which was negatively affecting production and profits. But they didn't want to invest an exorbitant amount on a new monitoring solution.
After: This customer already had PATLITE signal towers on its control panels. So, our WD System delivered a cost-effective wireless data acquisition solution that was also quick and easy to install. To accurately monitor 20 robots in real-time, they installed one WDR receiver, 20 WDT-LR-Z2 transmitters, and our WD System Setup Software. This economical installation significantly improved their robotic operation management and saved them a significant amount of money in lost production costs.
Case Study #6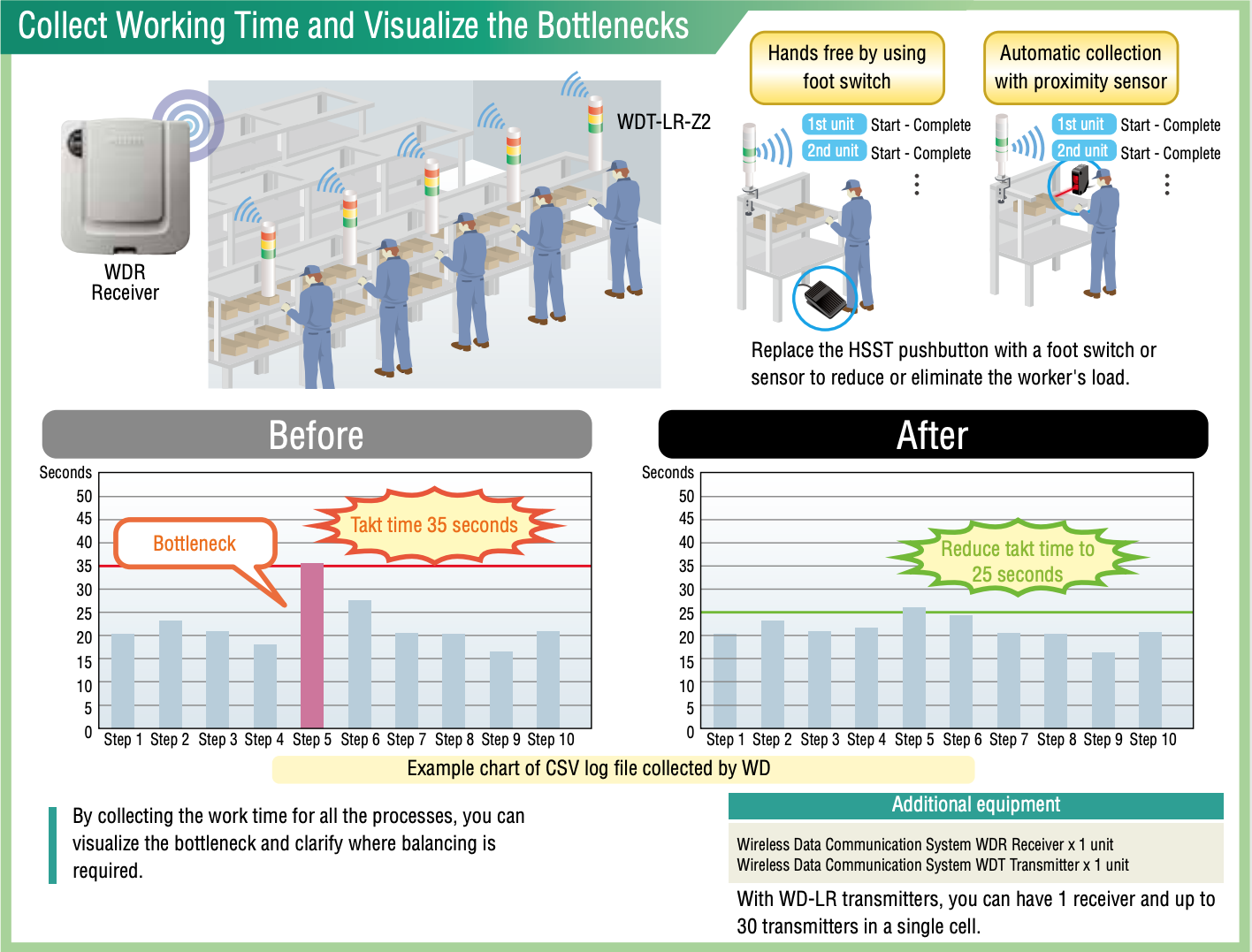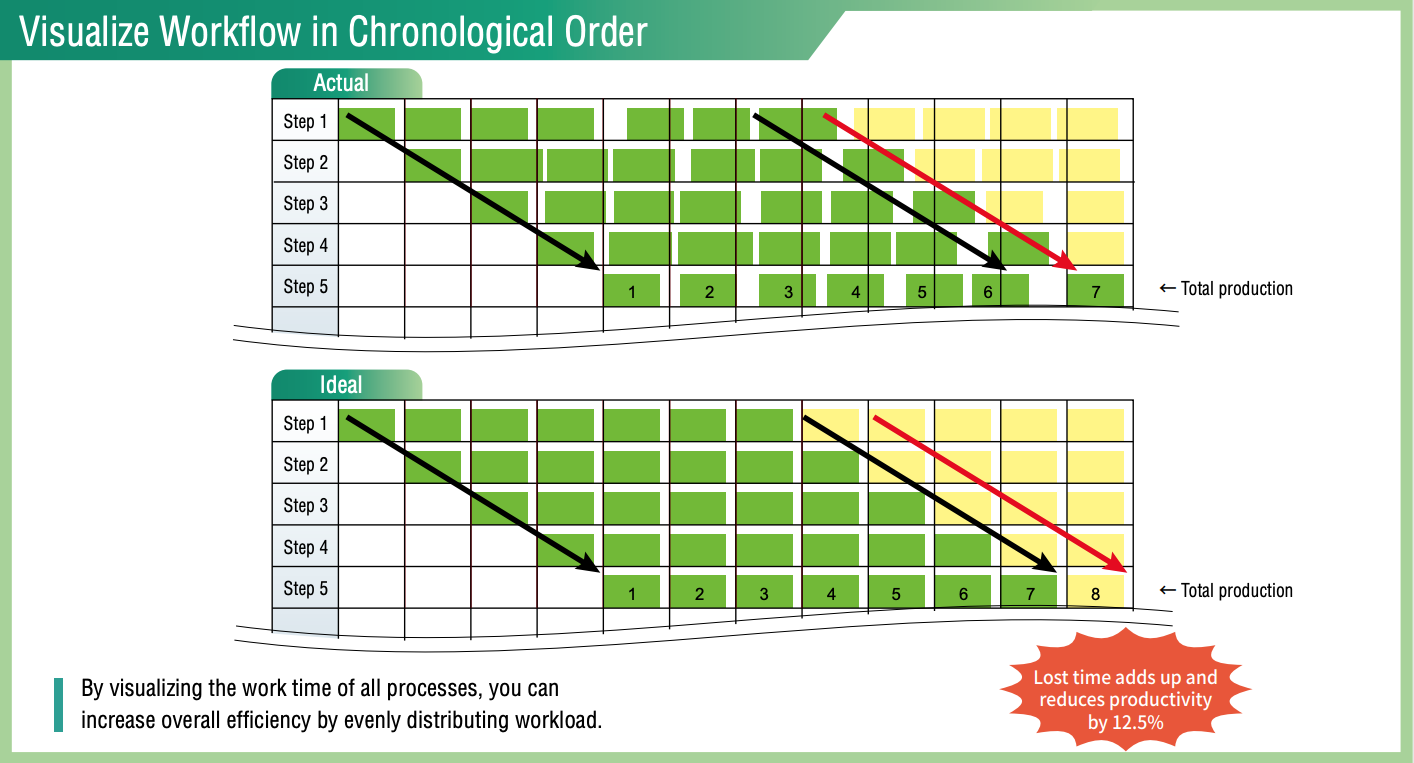 Before: A customer wanted to collect the work time for all processes on their cell assembly line in order to accurately visualize the bottlenecks and identify where modifications needed to be made.
After: This customer already used our HSST manual control signal tower with a corded switch box. So, we leveraged that device in our solution, suggesting that they install a WDR receiver and WDT transmitter and replace the HSST pushbutton panel with either a foot switch or a proximity sensor to reduce or eliminate employees' workloads. The receiver they installed supports up to 30 transmitters in a single cell, which limited their investment, and the upgrade allowed them to visualize the work time for all of their processes and increase their overall efficiency by evenly distributing the workload. This efficiency improvement successfully reduced their takt time, or the amount of time it took them to produce each unit, from 35 seconds to just 25 seconds, and resulted in significant production and profitability improvements that more than justified the cost of the WD System.
Case Study #7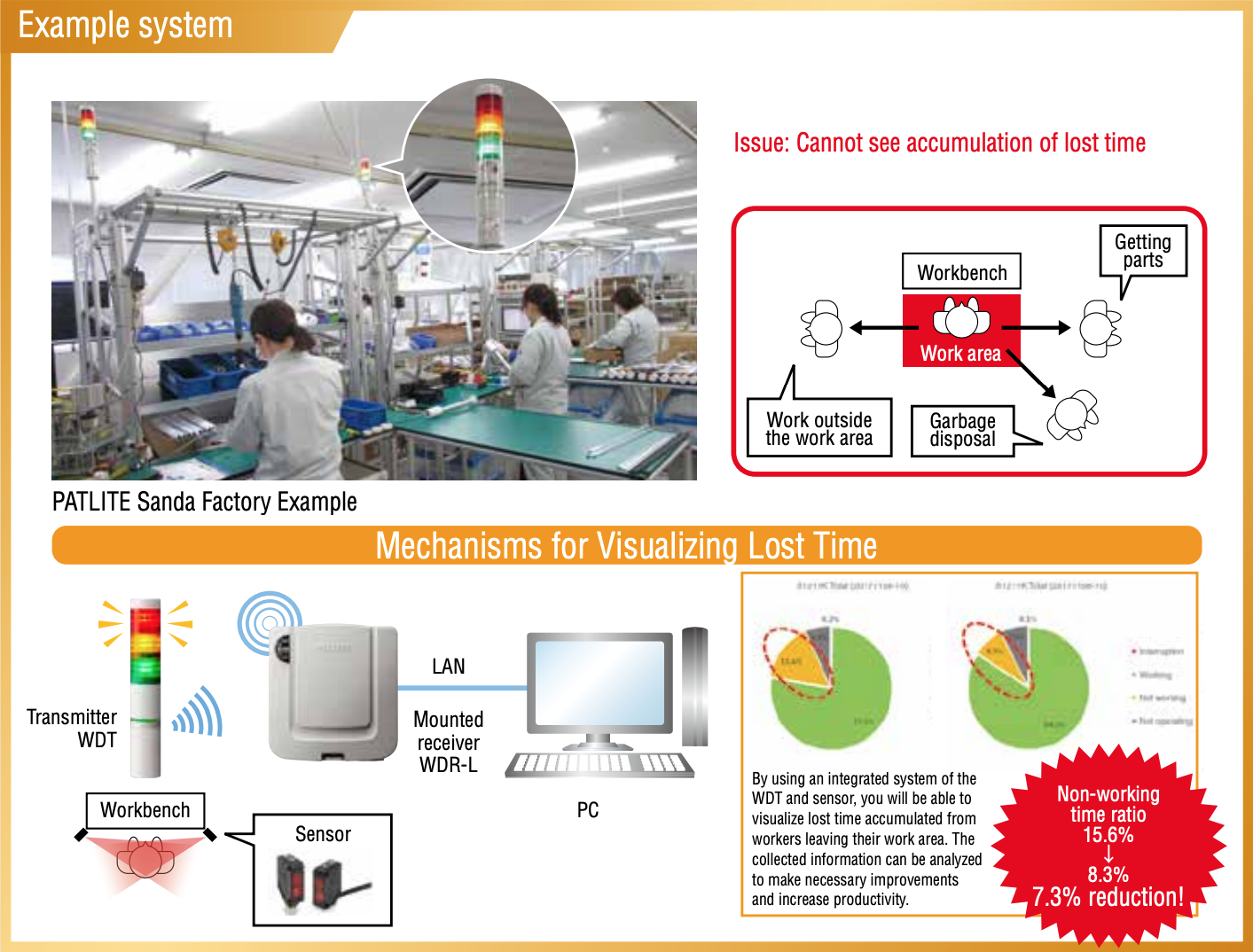 Before: A customer who already used our WD Wireless Data Acquisition System to visualize and optimize their operational performance was unable to see the accumulation of lost time resulting from employees leaving their work area to pick parts or perform other duties, and it was a common issue since the factory is focused on assembling many different times of small-quantity parts in a series of cell stalls.
After: By installing a sensor on each cell stall's workbench and integrating those sensors into the WD System, management was able record when employees were in the stall working and when they were away, visualize and analyze that data, and use it to make process improvements and increase productivity. Within just one month, the customer was able to reduce employees' non-working time from 15.6% to 8.3%.
Case Study #8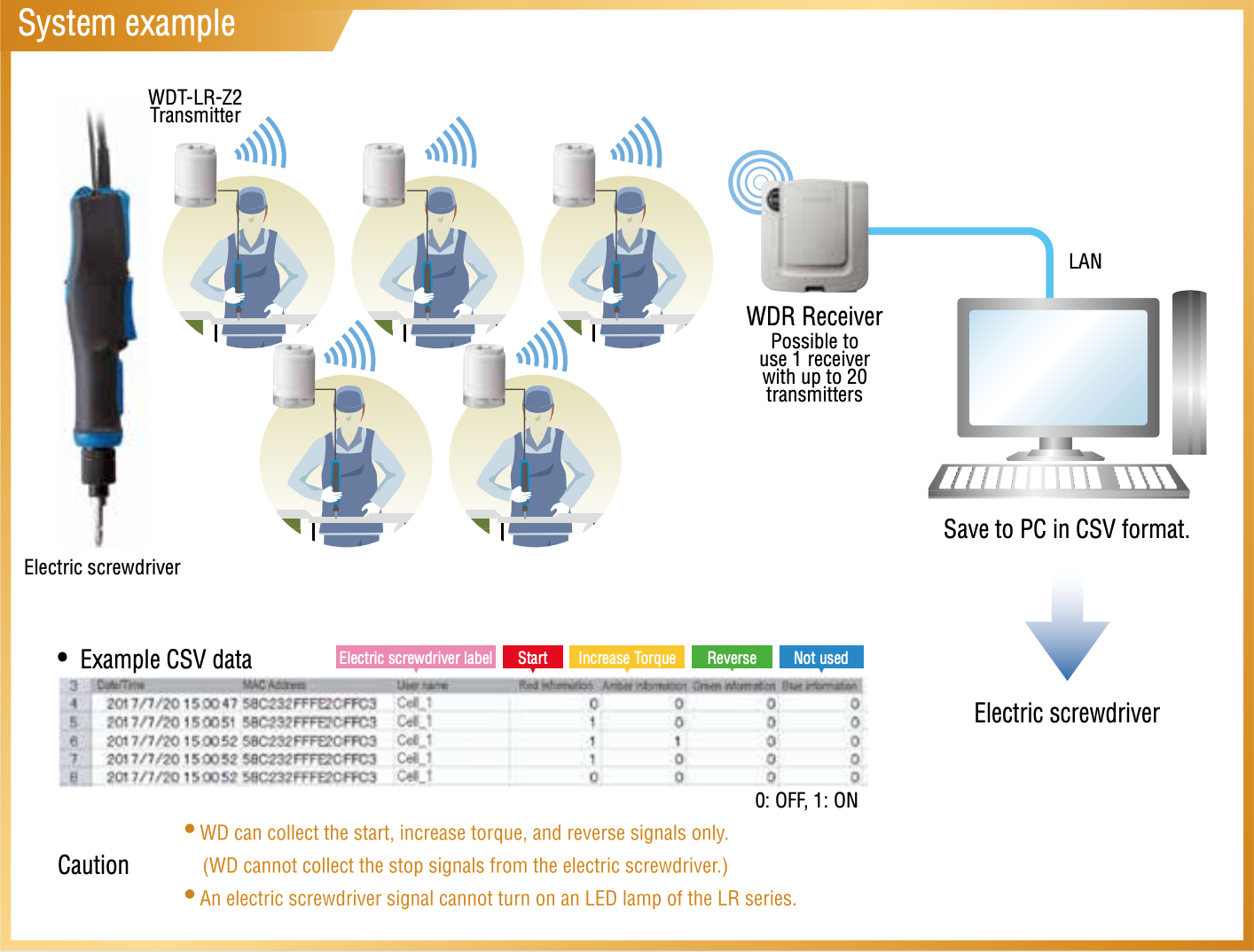 Before: A customer wanted to keep a record of the screw tightening work intended to prevent defective products and implement improvements that could reduce the variations in assembly work.
After: They installed five LR Series signal towers, five WDT-LR-Z2 transmitters, a WDR receiver compatible with up to 20 transmitters, WD System Setup Software, and five electric screwdrivers, connected the signal output of each screwdriver to the wireless data acquisition system, and identified each screwdriver by registering its name with WD transmitter's MAC address. This economical solution automatically recorded the screw tightening values via the increase torque signal, the loosening operations via reverse and start signals, and the number and order of operations for each electric screwdriver and compiled that information in the system's CSV log file.
Case Study #9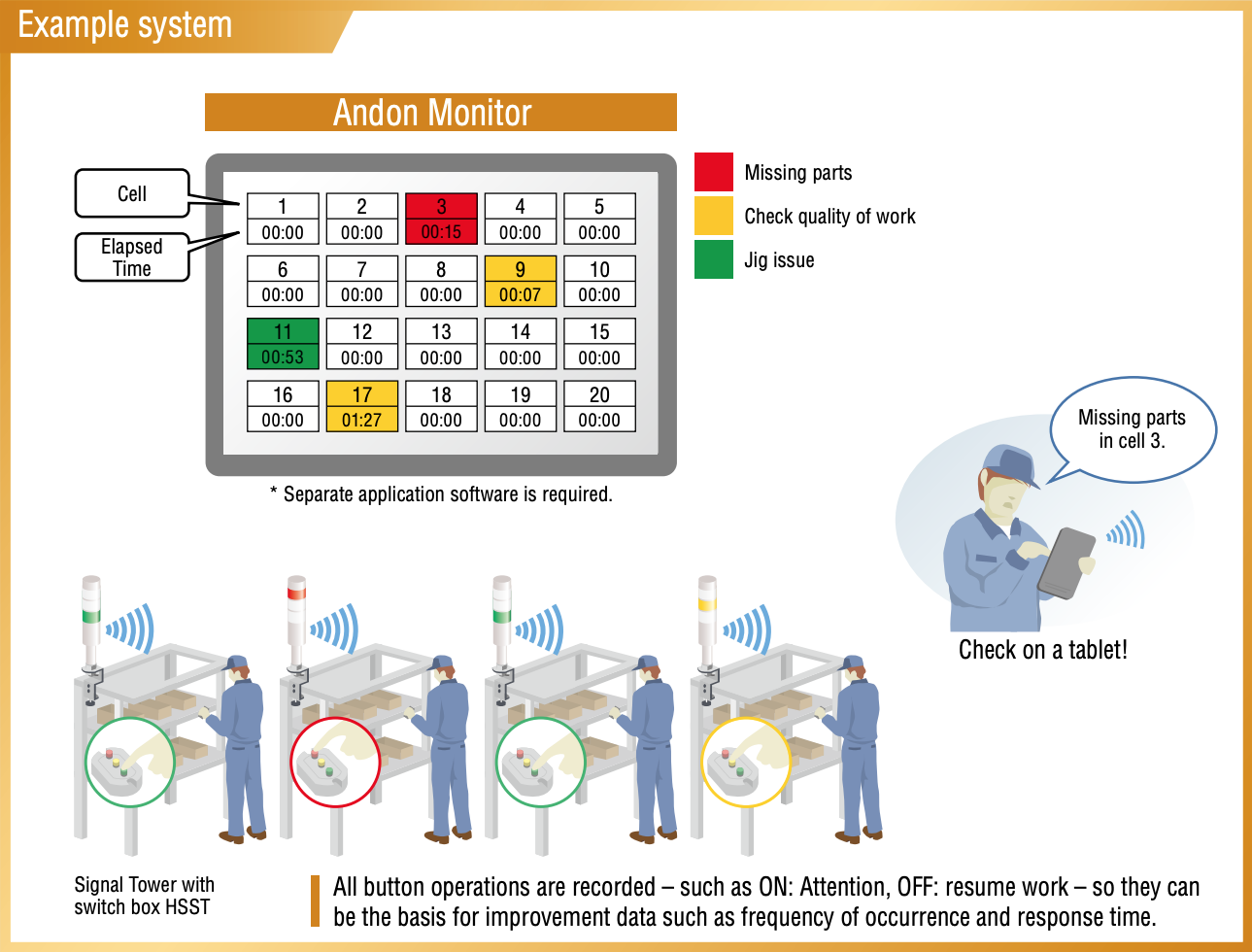 Before: A customer with 20 product assembly cell stalls didn't have an easy way for employees to call for missing parts and found it difficult to determine the appropriate order of operations for maximum efficiency. Facility managers were spending lots of time addressing parts and productivity issues, and employees were losing lots of production time waiting for managers to become available.
After: Installing 20 HSST manual control signal towers with switch boxes, 20 WDT-LR-Z2 transmitters, a WDR receiver, and the WD System Setup Software allowed the status of each cell to be clearly displayed on the system's Andon monitor. Employees could press a button to indicate that they needed attention and another to indicate that they had resumed work.
This allowed managers to tally assistance requests, record the response time, analyze production data, and enact process improvements that significantly improved production efficiency.
Improve Your Production Efficiency and Increase Profits with PATLITE and RS
PATLITE has designed and developed state-of-the-art equipment for the process and industrial automation industries for more than 75 years and is the world's best-known manufacturer of visual and audible signaling devices. As the industry's signaling needs have shifted from simple lights and buzzers to smart, network-capable devices, PATLITE has expanded its extensive product portfolio with an array of innovative products optimized for Industry 4.0 facilities, including wireless data acquisition systems, programmable signal towers, and devices compatible with IO-Link and PoE protocols.